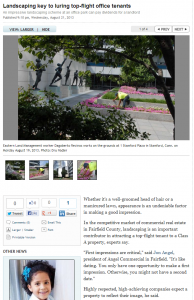 Owners of office buildings with gardens should invest in landscaping to help win over a raft of big tenants, according to a Stamford Advocate feature on office buildings. Jon Angel, who heads a major commercial real estate company in Fairfield County, CT, told the Advocate that clean surroundings outside the building was as important as orderly indoor settings. He also noted that some of the firm's recent clients didn't close a leasing deal because the exterior of their prospect property were badly maintained.
Plano, Texas, can be visualized as a place of open spaces; the city already has over 3,000 acres of vast fields spread out over several neighborhood parks, community parks, and open space preserves such as Bob Woodruff Park and Oak Point Park and Nature Preserve. It also hosts the headquarters of several major companies whose complexes feature green spaces of various sizes. When you're a building owner who wants to attract tenants to your office space, your place deserves quality landscaping in Plano, TX; the kind firms like Pro Cut Lawncare and Landscaping provide.
As no two office buildings with ample open space share the same landscape architecture, a skilled landscaping specialist will discuss your ideas for a custom design. In many respects, a look at the building's interior can spawn ideas that can work when complemented with the appropriate plants. The landscaper has an array of plant species for the client to choose and incorporate into the design.
A beautiful garden in an office complex can help employees relax during work breaks. In certain cases, running water provides a soothing experience; therefore, requiring the installation of an artificial waterfall or the like. Maintaining the lush scenery, however, requires a large amount of water. A Plano landscaping company can install irrigation systems that adequately cover the entire garden but turn off during rain.
John Busby, a local property manager, told the Advocate that there are building operators who want "park-like" settings for their landscapes. This is essential even at the entrance to the property, particularly for clients meeting a company's officials for the first time. It's a clear indication of how well the landscape is managed.
Another local commercial property manager, Margaret Carlson, said being able to maintain an office building's landscape, despite other factors, sends a positive message to prospective tenants about the commitment to a quality work experience. A professional landscaper and lawn services provider will help bring out your creative ideas into a well-designed garden that complements the style of the building and soothes employees wishing for some private contemplation.