Landscaping in Plano: Sprinklers and Irrigation Systems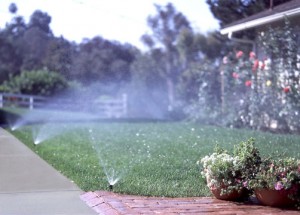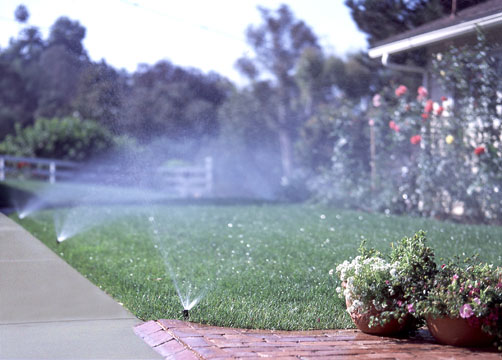 Pro Cut Lawn Care and Landscaping serves residential and commercial establishments in the Dallas Metroplex. Providing a complete array of services for landscaping in Plano, McKinney, Frisco and all surrounding areas, we are the property owner's partner in creating a lush and green landscape in Texas.
Regular care and maintenance are crucial to keep the landscape a lush and vibrant environment. Our professional team inspects all aspects of the lawn, making sure there are no bald spots, weeds, and other problem areas.
Sprinkler Repair
Sometimes features like sprinklers can malfunction, causing uneven or untimely distribution of water or none at all. Malfunctioning sprinklers can be a nuisance to homeowners and guests, not to mention unideal for any lawn, causing plant life to wither and the soil to get too soggy or dry.
When problems like these arise, property owners should call the technicians at Pro Cut Lawn Care and Landscaping. Our team is fast on the job, ensuring that your sprinklers are immediately repaired so your lawn receives optimum amount of water for your plants to grow and blossom.
Why Get Your Sprinklers Fixed
Property owners often try to fix sprinklers on their own, but professional attention is recommended to make sure that the system runs in excellent condition. This ensures that the right amount of water is emitted to maintain the landscape and that problems with the sprinkler no longer occur in the long run.
Keep your landscape green
Sprinklers are installed to keep your landscape watered evenly and in a timely fashion. This system must always run at peak efficiency, so that no water is wasted and you do not pay additional costs for utility bills.
Maintain a beautiful façade for your home or business
A perfectly watered lawn leaves a good impression on your neighbors or potential clients. Whether you are a residential or commercial property owner, a good sprinkler system is a way to keep your landscape verdant.
Schedule a Consultation with Us
Handling all construction and repairs for landscaping in Plano, TX, property owners in the Dallas Metroplex can get a perfectly maintained lawn with the help of Pro Cut Lawn Care and Landscaping. Apart from sprinklers, we also design and install irrigation systems and water features including ponds, fountains, and waterfalls. We add life to your landscape by integrating natural water features to keep your plant life vibrant and flourishing.
Schedule your landscaping service today. Whether it is for design, installation, and maintenance, our team of landscape experts are the guys for the job. We serve McKinney, Frisco, Allen, Fairview, Richardson, Murphy, Lucas, Sachse, Wylie, and Rowlett.