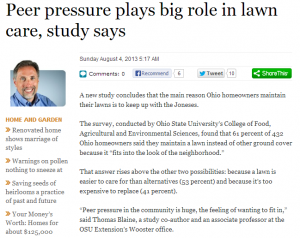 Taking care of your lawn may carry a purpose other than practicality, Columbus Dispatch writer Jim Weiker reports. A recent study by the Ohio State University's College of Food, Agricultural and Environmental Sciences stated that 61 percent of 432 respondent homeowners wanted to look after their lawns to help their property meld with the neighborhood. Associate professor Thomas Blaine said peer pressure fuels this behavior, and consequently stimulates the market for lawn care providers.
Spicing up the front lawn of your property can tug the residents of Plano, Texas. Many houses in the city and its suburbs have nicely-groomed lawns, which add to the appeal of the property. These features can be welcoming to people who want to live in a city dubbed as one of the country's safest places. When you want the lawn to bring more pizzazz to your property's appearance, experts at lawn care in Plano, TX, such as the team from Pro Cut Lawncare and Landscaping, have some fun features to offer.
Blaine highlighted the importance of conforming to neighborhood standards in helping homeowners move away from chemical solutions to lawn care, although the survey didn't state whether or not the respondents used these solutions. Based on years of experience, a credible lawn care specialist often uses environment-friendly materials to tend to the lawn.
Weeds are, by themselves, a menace as they detract the overall appearance of the yard and saps nutrients from other plants. The survey noted that homeowners were concerned with appearance as it's one of the things they like about their lawn. Around two in five people say lawn care is essential because they find a lawn replacement too expensive. A professional lawn service team can efficiently remove all weeds and use various methods to inhibit future weed growth.
A typical lawn may consist of a simple bed of grass that needs to be trimmed and watered once in a while. At the same time, small rocks and other preexisting objects open the opportunity for some fun landscaping ideas. A lawn care provider can help accentuate the yard through custom landscape designs to enhance the look of the house and the community.
Plano residents can relate with what their Buckeye compatriots think about overall lawn care. As an immaculately-tended lawn and garden opens opportunities for bonding with the community, you can't go wrong with an experienced Plano lawn service such as Pro Cut Lawncare and Landscaping.