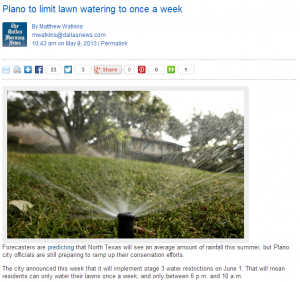 The lawn is definitely not a waste of living space. It can be a venue for family affairs or an intimate area where homeowners can relax after an exhausting day at work. Additionally, lawn maintenance can dramatically increase the value of any domicile. However, such a task may prove to be a challenge for residents of Plano, Texas, as city officials have decreed to limit lawn watering, which is vital in keeping the lawn in prime condition.
Plano has already been subjected to stage 2 water restrictions that prevented individuals to water their lawns for more than twice a week, but low lake levels left the North Texas Municipal Water District with no choice but to implement stage 3 water restrictions. Under this new regulation, people can now only quench their lawns' thirst once a week. This is not the end of well-manicured lawns though, if companies that specialize in lawn care in Plano, TX have anything to say about it.
Lawn care specialists such as those from Pro Cut Lawn Care and Landscape can help residents preserve the beauty of their lawns despite the existence of mandated water reductions in the city. While cutting down on water usage may render the lawn more susceptible to the scorching heat of the Texas sun, lawn care companies can install an irrigation system right in your home to shield the area from the adverse effects of high temperatures.
The irrigation system can save time, money, and water. It is equipped with calibrated heads that release only a particular amount of water at a given time, in a specified area. It also has sensors which automatically shut down the system when there's enough rainfall. Indeed, the irrigation system is a boon not only to concerned residents but also to city officials who are working hard to ramp up their water conservation efforts.
The situation may appear grim for many, but the people of Plano should not despair about losing the privilege of watering their lawn as often as they want to. Forecasters predict that North Texas will experience an average amount of rainfall, so residents can expect an additional supply of water from the heavens. If some of their plants start to wither, they can always call on lawn care companies for professionalPlano lawn service, to keep their trees and shrubs healthy despite regulated watering.
Homeowners should look at the brighter side of water usage restrictions. These acts will ultimately benefit them, especially when unforeseen calamities such as droughts strike. With lawn care companies by his side, the Texan in Plano need not worry too much about how he and his lawn will survive the hot summer climate.