At Pro Cut Lawncare and Landscaping, we take care to provide our customers high quality services personalized for their unique needs. Our professional, courteous and efficient staff members are happy to provide Plano lawn service and landscaping for both residential and commercial properties.

We provide a variety of services including:

Yearly Maintenance
With over 25 years of experience, you can count on us for reliable lawn maintenance services and results you will love for years to come.
​Our basic Lawn Maintenance Plans include mowing, edging, trimming, pruning, and blowing to provide you with the most LUSH and GREEN lawn possible.
Landscape Design and Installation
Landscaping can create a special place for you to relax and unwind, especially after a hard day. Imagine a peaceful garden and all the features you like best about it, and then call us to make your dream come true!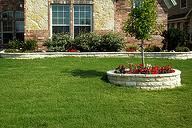 Construction and Repairs
If you have needs for Grading, Drainage, Retaining Walls, Irrigation, Mulch, Stone Paths, Patios, or Hardscapes, let us know. You will appreciate our many years of experience in working with stones, pilings, crushed granite and other materials … Also, if you have been thinking about beautiful Landscape Lighting, you've come to the right place. We do it ALL.
Please check out the following page links for more information:
Pro Cut Lawn Care and Landscaping serves the DFW Metroplex including Plano, McKinney, Frisco, Allen, Fairview, Richardson, Murphy, Lucas, Sachse, Wylie and Rowlett. If you have any questions concerning deliveries, pick-ups or prices, please don't hesitate to contact us at (972) 578-9946. Our friendly customer service staff will help find the best solutions for you.
We serve Plano, Richardson and Frisco, among other areas. Click here for more information.
972-578-9946
Contact us for information regarding our landscaping company.