Promotions | Special Offers
Get the Best Lawn Care and Landscaping Services from Pro Cut Lawncare… Call today!
We have been providing topnotch landscaping and lawn care in the Dallas Metroplex area since 1986. Our unmatched customer service and in-depth industry knowledge have earned the trust of residents and business owners.
We serve all neighboring areas including Plano, McKinney, Frisco, Allen, Fairview, Richardson, Murphy, Lucas, Sachse, Wylie and Rowlett.
Turn to Pro Cut Lawncare and Landscaping for professional quality lawn care in Plano, TX and the surrounding areas in the Dallas Metroplex. Make your home or business stand out through our services, which include:
Office Hours:
MONDAY: 8am – 5pm
TUESDAY: 8am – 5pm
WEDNESDAY: 8am – 5pm
THURSDAY: 8am – 5pm
FRIDAY: 8am – 5pm
SATURDAY: Closed
SUNDAY: Closed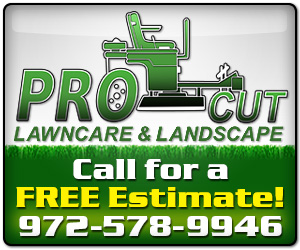 Lawn Care – Our certified lawn care specialists and highly trained crews will help you achieve a plush, green lawn that is naturally more resistant to disease, insects and weeds. Contact us today if you need expert lawn service!


Trees and Shrubs – We'll help you select, plant, and care for and maintain any trees or shrubs of your choosing. Our experience has sharpened our eye and trained our hands to provide beautiful accents to our customers' properties. We'll make sure they are placed correctly and will grow to become wonderful additions to your home.
Custom Stonework – Some of the stonework services we provide are stone borders, flagstone patios, and moss boulders. If your landscape needs a facelift, then make sure you get in touch with the experts in providing personalized and professional lawn services.


Irrigation Systems – Pro Cut Lawncare and Landscaping has been providing areas like Plano with lawn service for over 25 years. We can install an irrigation system that will work automatically to help you make savings. The precision of this superior system allows for optimal water conservation. You can also contact us if your sprinkler or irrigation system needs a repair.
Water Features – What better way to accentuate your garden or lawn than with a small pond with fish in it or our other water features. We install ponds, fountains and waterfalls. Our unique quality designs are customizable to ensure that your vision is carried out in the final layout.


Outdoor Kitchens – It is Saturday lunchtime and you want to have some barbecue with the neighbors. Our experienced team can help you achieve that in your very own personal outdoor kitchen. We are experts at designing and installing these luxury kitchens.
Commercial Work – We do not limit ourselves to providing our services only to homeowners. If the lawn in your business property could use a makeover with custom landscaping, or simply needs care and maintenance, contact us. We offer the most complete services in landscaping and lawn care in Plano.